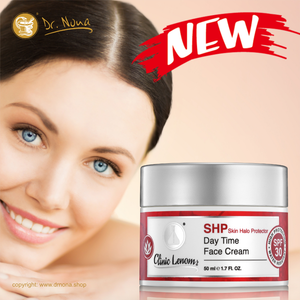 Dr.Nona SHP - Clinic Lenom - Skin Halo Protector (SPF 30) - Day Time Face Cream - 50ml
A new generation of skincare - SPF 30+ / BB effect
SHP by Dr.Nona & Clinic Lenom - DAILY SKIN CREAM 50 ml

The Clinic Lenom range of products is covered by Patent No. 222127,
contains a synergy of Archebacteria and Dunaliella algae and uses innovations in production technology.

The main cause of skin ageing is sunlight. Daily skin cream SHP provides effective protection against UV radiation. It is a day cream with UV filters of the new generation.

The perfect composition of the cream protects the skin from the harmful effects of the external environment and cares for it about it and optimizes the metabolism of skin cells.

It soothes, nourishes, improves the overall condition of the skin and gives it a youthful and fresh appearance.

The protective properties of the cream are ensured by Dead Sea Archebacteria in cooperation with the effects of Dunaliella algae. These ingredients support the activity and vitality of skin cells.

The cream also contains particles that reflect light, and add brightness to the skin and a BB component in the cream helps to smooth the skin and hide its imperfections.

The cream has a light consistency and is quickly absorbed.
Basic composition: myrrh oil, jojoba oil, sunflower seed oil, and extract from the astragalus.

Jojoba oil - is rich in antioxidants and vitamins and omega-6 fatty acids that help nourish the skin and slow down its ageing.
It also has anti-inflammatory effects, and moisturizes and protects the skin.

It contains vitamin E, which restores vitality and smoothes skin wrinkles.
Myrrh oil - has rejuvenating effects, smooths fine lines wrinkles and skin imperfections, and regenerates and softens the structure skin.

Sunflower seed oil - contains vitamin E, which slows down the ageing process and smoothes fine lines.
It has an anti-ageing effect and gives the skin a fresh look.
It also contains linoleic acid, which hydrates the skin, maintains its moisture and soothes minor irritations.

How to use: Apply a small amount of cream every morning and gently massage into the skin of the face and décolleté.